The Barking Food Forest Project has got off to a flying start. After several hurdles including underground scans, lockdowns and more, we finally got to start on site gardening sessions in August of 2021. The community got the ball rolling, preparing the site and building wooden planters to grow vegetables.
By September, school was back in and students of all ages began to get involved with weekly gardening sessions. All the way from toddlers at LEYF Nursery to secondary students at Riverside School, the younger members of the community jumped head first into all the gardening tasks.
There's been a lovely symbiotic process, where the different groups attending the garden at separate times have been working towards a shared vision. A great example was our first batch of veggie planters. The community (residents) built the planters and got them filled up with compost, ready for planting. Then the nursery and primary groups planted them up with veggies. The secondary students and the community groups helped later on with weeding and mulching, creating a cosy blanket of grass cuttings – to help keep the young plants insulated and hydrated over winter.
Saturdays have been lots of fun and an opportunity for all the different groups to work on the garden together. We have a few junior gardeners who come with their nursery/primary group on a Tuesday and then come with their family on a Saturday.
It's a been a whirlwind of a first season. Although, we started towards the end of the growing season, we've got a lot done.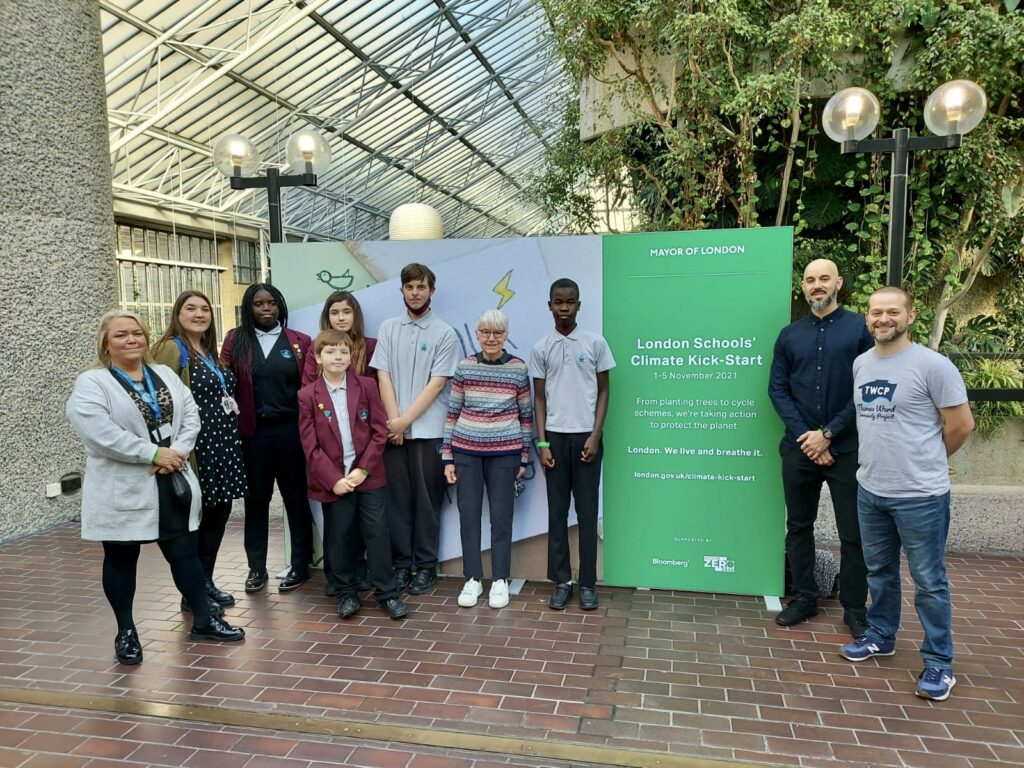 Resident and student gardeners have planted a hedgerow to attract birds and wildlife and created a pond – which is happily getting filled by the winter rains. We also planted many shrubs, flowers and young trees, which are all creating a real sense of the Food Forest that we have envisioned together. 
Barking Food Forest has had a couple of great events this year. Both the Pumpkin Party and the Diwali celebration had a great turn out. Residents and also neighbours from further afield in Barking and Dagenham got together to garden, celebrate and meet other like minded folks from the area. The kids had a blast playing games and doing seasonal arts and crafts. Some of the residents even brought delicious home made food to share with the community. Nothing brings people together like enjoying tasty food, in future we look forward to sharing the goods that we grow together as well.
In November, we celebrated a major win: the Mayor of London Climate Kick Start awarded Barking Food Forest and Riverside Bridge School £10K to create a Rainwater Harvesting System. The Bridge School Kitchen and Barking Food Forest, will each have a system to capture rainwater and use it for watering the garden. What's more, it will include a solar powered automatic watering system, so that the school plants thrive even during the long hot summer holidays. 
Students from Riverside Bridge and Riverside Secondary school also got to meet Mayor Sadiq Khan at an exciting award ceremony in central London. They were inspired to hear of some of the other projects by schools in London and the Mayor's ambitious goals for nature and wellbeing in the capital. Best of all the students were recognised and celebrated for being champions of positive environmental change that will benefit all London's residents, wildlife and ecology.
Barking Food Forest is currently taking a break for the winter and will reopen in March for our first full growing year!
We're also using the winter break to move forward with planning applications for our proposed structure and other plans. The next year should see some major changes to the garden site, so watch this space! Better yet come along and get involved. 
Community Gardening sessions are open to all and run on Tuesdays & Saturdays from 10am-12pm. The garden will reopen in mid-March.
Permaculture Designer & TWCP Steering Group Member
Follow us on social media: